Whiz the graham crackers in a food processor.
Add melted butter and whiz again until the mixture comes together.
Press into the bottom of an 8″ springform pan that's lined with aluminium foil or use individual glasses. Refrigerate this while preparing the rest of the cheesecake.
Mix the cream cheese, cream, and sugar in a bowl until well combined. You can do it by hand or use low speed on your Kitchenaid. An electric beater is not needed.
Add the gelatine or agar agar to the hot water and stir till it completely dissolves.
Add the mango puree and stir well.
Keep half of this mixture aside and add the rest to the cream cheese mixture.
Stir gently until well combined.
Pour this mixture on top of the graham cracker base. Return to the fridge for another 10-30 mins depending on how much time you have
Pour the mango mixture as the third layer. Do this gently so that the layers don't combine. If you use a springform pan, the top layer will be much thinner, as it should be.
Refrigerate overnight and serve chilled
Step by Step Eggless No-Bake Mango Cheesecake Recipe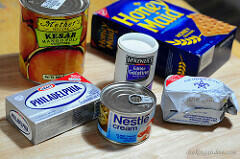 You are going to need graham crackers for the base. I got some from the US because I really love graham crackers but if you don't have any handy, go with digestive biscuits, Marie biscuits, or even Oreos.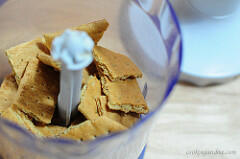 Give them a whiz in your food processor to turn into crumbs. You can even put them into a ziplock and use a rolling pin to smash them into small pieces. I always take the easy way out, especially when the end result won't show much difference anyway.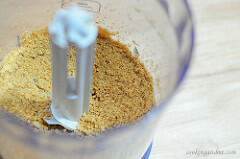 Time to pour in some melted better.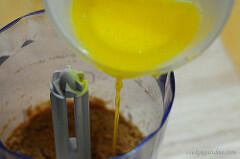 Give the mixture another whiz so that the base becomes moist and crumbly, just the way we want it. At this time, I urge you to smell this mixture. I swear it already smells a bit like cheesecake!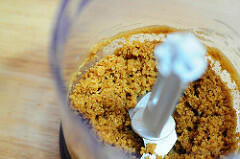 Now, you can go many routes. Use an 8″ springform pan if you want one full cake which you can later slice up. I decided to set them in individual glasses and picked out whatever I had in hand. This will make serving much easier, especially if you are making this for a small party or something. Also looks infinitely prettier.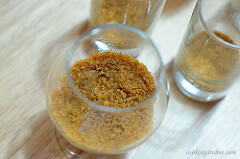 Spoon some into each glass and press firmly with the back of a spoon or fingertips. Leave this in the refrigerator while the rest of the cheesecake is prepared.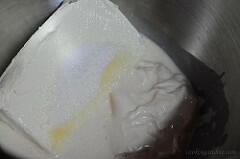 Mix well together the cream cheese, sugar, and cream. You can do this with a whisk by hand since you are not going to beat it much, just until it all comes together. I used my Kitchenaid for the job.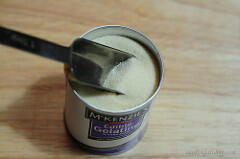 Time to bring out the gelatine. This is our setting agent, since this is a no-bake cheesecake recipe. See notes at the end of this recipe for vegetarians to use agar agar powder.
Dissolve 1 tbsp gelatine in hot water.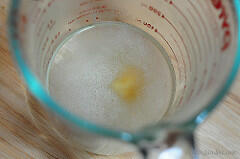 Mix this into the mango puree. I used canned mango puree but if you have fresh mangoes that you want to use up (lucky you!), then go for that, please. Make sure the mango puree is well combined with the gelatine mixture.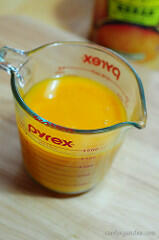 Reserve half and pour the rest into the cream cheese mixture. Incorporate well. This is our middle layer or the main part of the cheesecake. How easy was that?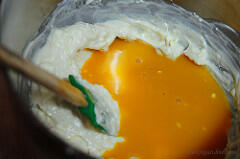 Bring out the glasses from the fridge and spoon the cheesecake mixture into each, until about 3/4th full. Return to fridge for atleast 10 mins. I took them out in about 15 mins or so.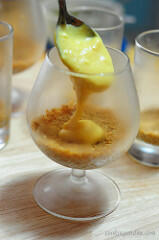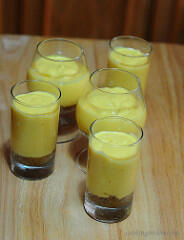 Once the cheesecake has set a bit in the fridge, pour the reserved mango-gelatine mixture gently on top of the cheesecake. If you don't do the refrigerating bit after you pour in the cheesecake, that will blend into the top layer that you are pouring in now so its important to let the cheesecake mixture set for a bit.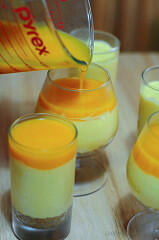 That's it! Refrigerate overnight or at least 6-8 hours for a delicious dessert.
Full credit for this recipe goes to my classmate from school, Swetha and her cousin. She emailed me this recipe long back and I had kept it in my to-do list for ages. Glad I got around to finally making it. This is an easy dessert that makes you look really good for making it, just the kind I love!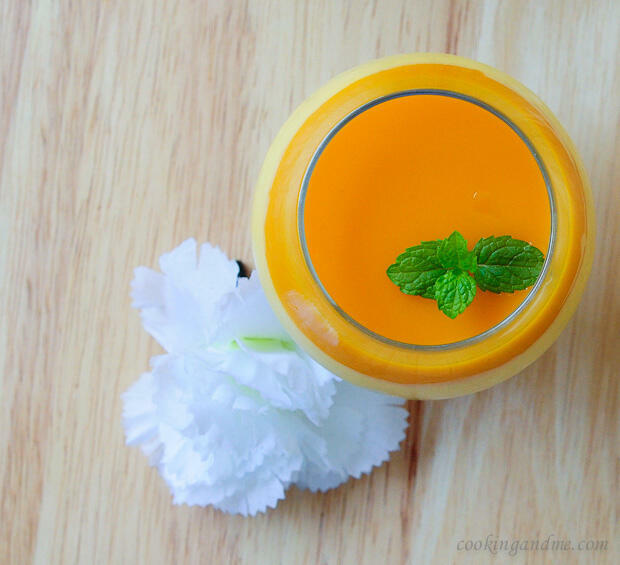 Notes:
If you are a vegetarian or don't want to use gelatin, you can use agar agar powder or China grass powder. It's a plant-based thickener that works the same way as gelatin. You can find it in Asian stores and most supermarkets in India sell these in powder form or in strips. If you are using strips, dissolve 5gm in 2-3 tbsp hot water until completely dissolved and use in the above recipe.
——————————————
This post is taken from here